Beauty & Self
Books & Music
Career
Computers
Education
Family
Food & Wine
Health & Fitness
Hobbies & Crafts
Home & Garden
Money
News & Politics
Relationships
Religion & Spirituality
Sports
Travel & Culture
TV & Movies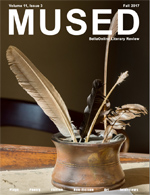 Autumn is a season for counting our blessings. For realizing just how much we have in life where so many others are without. It can often be easy to take things for granted. Things which millions of people desperately dream of having. By pausing for a moment, and looking around with mindfulness, we can find a new center. Begin with fresh energy.

Enjoy the Mused Autumn Equinox 2017 Issue



Fall weed allergies
Allergies and Colds - Sheree Welshimer, Editor

Chenopods, sagebrush and ragweed agitate allergies




Slow Cook Modern Cookbook Review
Quick Cooking - Karen Hancock, Editor

Here is an excellent slow cooker cookbook that is designed for the busy cooks of today. It not only contains recipes that can cook for eight hours without getting overcooked, but also includes recipes for side dishes and accompaniments.




Fogging a new fad in Bangalore
Romantic Getaways - Marianne de Nazareth, Editor

Fogging basements and gardens in buildings can be dangerous with the unknown pesticides being used.




11 to 12 Inch Fashion Doll Dress Pattern
Doll Making - Helen B. Wharton, Editor

Here are the pattern pieces for the "back to school" dress for 11 inch fashion and Barbie type dolls.




Cranberries during Colonial and Pre-Columbian Eras
Landscaping - Connie Krochmal, Editor

Long before the European colonists arrived, the Native Americans used cranberries for making pemmican. It didn't take long for white settlers to learn about the edible berries.




Harry's Spooky Surprise! Read Aloud Review
Reading - Connie Mistler Davidson, Editor

Harry's Spooky Surprise, by n. g. k. and illustrated by Janelle Dimmett, is the best book of its type that I have seen in years. I highly recommend this future classic for parents and teachers of young children. The charming prose and glorious pictures show friendship and gratitude in action.


| Google+ |
E D I T O R R E C O M M E N D E D
From Pain to Parenthood


Follow one womanīs incredible and heartfelt journey from the pain of miscarriages to the joy of becoming a parent through adoption. Filled with honest, raw emotions and helpful coping tips, "From Pain to Parenthood" promises to touch your life with a real story that shows the power of the human spirit and the beauty of a motherīs love.
Itīs An Animalīs Life


Shopping is fun at Itīs An Animalīs Life. When youīre looking for the perfect animal gift, look no further.
TomTom ONE 130s GPS


Looking for a great GPS unit for your car? The TomTom ONE 130s is a great, moderately priced GPS system with text to speech capabilities. Spoken street names and TomTomīs EasyPort mounting system make this a terrific GPS unit!