Beauty & Self
Books & Music
Career
Computers
Education
Family
Food & Wine
Health & Fitness
Hobbies & Crafts
Home & Garden
Money
News & Politics
Relationships
Religion & Spirituality
Sports
Travel & Culture
TV & Movies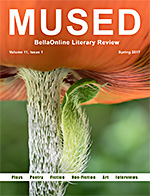 In our modern world of 24-hour diners and around-the-clock email, it sometimes seems as if we've lost track of nature's cycles. But then the Spring Equinox comes along and reminds us to pause. For thousands of years, cultures around the world have recognized this one special day as representing a balance of light and dark. It's a unique moment in time where our world settles in equilibrium – just for a breath. And then the sunlight shines out and pulls us deeper into Spring.

Enjoy the Mused Spring Equinox 2017 Issue



Problem Solving to Relieve Stress with ADD
Attention Deficit Disorder - Connie Mistler Davidson, Editor

When you have Attention Deficit Disorder and you are trying to juggle too many demanding activities at once, it is time to reassess that state of affairs. You could develop a decision making chart. This article takes you through the basics of making a logical decision to improve your stress level.




Basics of Home Sewing Patterns
Sewing - Cheryl Ellex, Editor

A printed paper sewing pattern is like a road map; the directions on getting from one place to another are all tantalizing provided, but it's up to the reader to interpret and make sense of how to get from map point A - You Are Here, to map point B - Unfamiliar There.




The Six Types of Business Plans
Small Office/Home Office - Carla Cano, Editor

A brief overview of six types of business plans.




A Backpack that Means Business
Luxury Travel - Barbara Radcliffe Rogers, Editor

Roomy and efficient, but compact and comfortable to carry, the Urban 30L by Beckmann of Norway comes with its own waterproof shell




Gloria Steinem
History - Vance Rowe, Editor

Gloria Steinem has been the outspoken leader of the Women's rights movement ever since the 1960's. Read more about her in this article.




AMG - Meet Samantha 1904 – Book Review
Children's Books - Launa Stout, Editor

In 1904 young ladies wore dresses covered with frilly aprons, high button shoes and long stockings held up with garters. They are not allowed to climb trees, instead must spend time sewing.


| Google+ |
E D I T O R R E C O M M E N D E D
Christian Living Site Shop


Find book reviews of Christian Books both fiction and non-fiction. Read my experience in purchasing a Bible Book Cover.
The Weiser Field Guide to Cryptozoology


The Weiser Field Guide to Cryptozoology by Deena West Budd includes information, interviews, and stories about forty different cryptids seen in various places all over the world by credible eyewitnesses like policemen, rangers, and doctors. Readers will learn where and how to find flying humanoids, hairy humanoids, giants of all kinds including rabbits, bats and spiders, goblins, and vampires.