Beauty & Self
Books & Music
Career
Computers
Education
Family
Food & Wine
Health & Fitness
Hobbies & Crafts
Home & Garden
Money
News & Politics
Relationships
Religion & Spirituality
Sports
Travel & Culture
TV & Movies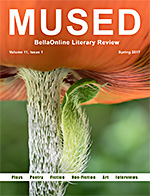 In our modern world of 24-hour diners and around-the-clock email, it sometimes seems as if we've lost track of nature's cycles. But then the Spring Equinox comes along and reminds us to pause. For thousands of years, cultures around the world have recognized this one special day as representing a balance of light and dark. It's a unique moment in time where our world settles in equilibrium – just for a breath. And then the sunlight shines out and pulls us deeper into Spring.

Enjoy the Mused Spring Equinox 2017 Issue



Needleart 1921 edging #6
Tatting - Georgia Seitz, Editor

These patterns are from the "Needleart" magazine Vol.8 #3 published in 1921 on page 17 and continued on page 68. There are seven patterns of varying degrees of difficulties. The designs are intended for underwear but today's fashions would also be enhanced on outer wear as well. More this summer.




Gifted Kids
Learning Disabilities - Celestine A. Gatley, Editor

Motivation, communication skills, and reasoning have something in common. It is called giftedness. Each child has a different level of giftedness. There are traits that can be found in children.




Wild Rabbits in California
California - Korie Beth Brown, Ph.D. , Editor

Breeding like rabbits? Hardly; at least one California species is highly endangered. Who cares? Well, we should. Why? Read on....




A Handmaid's Tale
Prime Time TV - Maria Brown, Editor

A Handmaid's Tale is based off of the best-selling novel by Margaret Atwood. It's about a society that has been turned from modern day society into a society where divided into classes where women aren't allowed to read or write and have become the property of men.




The Health Benefits of Garlic and Onions
Nutrition - Moss Greene, Editor

Garlic benefits and medicinal uses have been known throughout the ages. But how about the immune system and heart health benefits of onions, leeks and chives?




Preparation and Planning for Graduation
Daughters - Tuculia Washington, Editor

High school graduation is a major life milestone that should be celebrated. It is also a busy time of the year filled with celebrations and responsibilities. Check out tips on how to make things easier.


| Google+ |
E D I T O R R E C O M M E N D E D
It´s An Animal´s Life


Shopping is fun at It´s An Animal´s Life. When you´re looking for the perfect animal gift, look no further.
TomTom ONE 130s GPS


Looking for a great GPS unit for your car? The TomTom ONE 130s is a great, moderately priced GPS system with text to speech capabilities. Spoken street names and TomTom´s EasyPort mounting system make this a terrific GPS unit!
Spirit Beach - Paranormal Romance Novel


When Renee Simone stumbles on the legend of John Henry Covington, the man with the mesmerizing eyes in the ominous portrait at the Covington B & B she and Adrian find out too late that a vampire's lust for love and blood never dies. Fear grows as the gusty sea spray and wind persuasively invites her to a personal audience with a ghost… "I´ve been waiting for you, Renee."