Beauty & Self
Books & Music
Career
Computers
Education
Family
Food & Wine
Health & Fitness
Hobbies & Crafts
Home & Garden
Money
News & Politics
Relationships
Religion & Spirituality
Sports
Travel & Culture
TV & Movies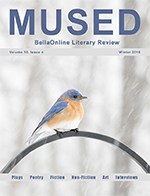 Sometimes it seems as if winter quotes make winter out to be a necessary evil which exists only for us to appreciate the subsequent warmth. Shelley: "If winter comes, can spring be far behind?" Shakespeare: "Now is the winter of our discontent made glorious summer by this sun of York." Hugo: "Laughter is the sun that drives winter from the human face."

But winter is far more than a down against which to compare the subsequent ups. Winter is a powerful, magical time. It is a season of strength. Of looking inward and finding focus. Bob Seger stated, "I write probably 80 percent of my stuff over the winter." Terri Guillemets reminds us, "The color of springtime is in the flowers; the color of winter is in the imagination." The Winter Solstice is a time to embrace the mysterious. The endless possibilities. The sense that we already have, within ourselves, boundless creativity and opportunity. We simply have to still ourselves and listen.

Winter is a powerful season. It gives us that space to look back and learn from our history. To look forward and envision what we wish to become. To be fully mindful of the present and be aware how each day has potential for us to speak out and impact the way our world proceeds. To move us toward peace, fulfillment, and an appreciation of what each of us has to offer.

Happy Winter Solstice.

Enjoy the Mused Winter Solstice 2016 Issue



Angel Message Tenderness
New Age - Deanna Leigh Joseph, Editor

People often believe that tenderness is risky; that it may leave them vulnerable to heartache, or suffering. However, this is not the case. When you walk through your life with a tender heart, you allow yourself to be guided by your heart's wisdom. And, you will more easily hear the loving support o




Tarot and Empathy
Tarot - Linda J. Paul, Editor

Empathy is definitely a necessity when it comes to reading Tarot. In order to understand what a client is experiencing in his or her life, the reader must be able to fully listen without judgement or bias.




MTH - List of Magic Tree House Books - Hardcover
Children's Books - Launa Stout, Editor

Jack and Annie, time travelers, are in Mary Pope Osborne's Magic Tree House Books. Magic Tree House Children Adventure Books. Merlin Missions. List of Magic Tree House Books Hardcover.




African-American Women Inventors
History - Vance Rowe, Editor

Did you know it was an African-American woman who invented the home security system complete with a camera and monitor in 1966? Read more about her and other African-American women who invented common household things we still use today.




Past Ghost Stories from St. Louis
Paranormal - Deena Budd, Editor

I recently found an interesting story in the 26 Feb 1888 edition of the St. Louis Post-Dispatch containing a few local St. Louis ghost tales.




A Practical Property Exorcism
Pagan - Ian Edwards, Editor

"Good afternoon. I'm from the safety service and I'm here to pick up our equipment.". Not a line most people think of as part of an exorcism, but surprisingly effective nonetheless under the right conditions. To learn what these are read this latest article.


| Google+ |
E D I T O R R E C O M M E N D E D
TomTom ONE 130s GPS


Looking for a great GPS unit for your car? The TomTom ONE 130s is a great, moderately priced GPS system with text to speech capabilities. Spoken street names and TomTom´s EasyPort mounting system make this a terrific GPS unit!
Spirit Beach - Paranormal Romance Novel


When Renee Simone stumbles on the legend of John Henry Covington, the man with the mesmerizing eyes in the ominous portrait at the Covington B & B she and Adrian find out too late that a vampire's lust for love and blood never dies. Fear grows as the gusty sea spray and wind persuasively invites her to a personal audience with a ghost… "I´ve been waiting for you, Renee."
Caillou Goes Back to School DVD


Caillou Goes Back to School DVD is great for kids who are Caillou fans, and other kids who enjoy watching shows that depict family life.