Beauty & Self
Books & Music
Career
Computers
Education
Family
Food & Wine
Health & Fitness
Hobbies & Crafts
Home & Garden
Money
News & Politics
Relationships
Religion & Spirituality
Sports
Travel & Culture
TV & Movies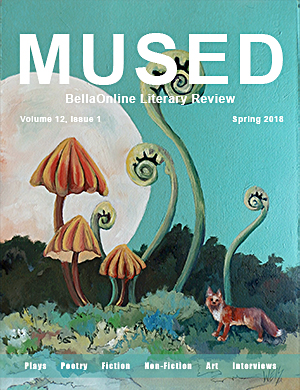 It can seem sometimes as if our world is whirling faster than we can keep up with. It can become overwhelming. Exhausting.

A balm which rejuvenates is to explore the creative efforts of individuals around us. To begin, turn off the noise and clatter of the world at large. Take a deep breath and instead focus on connecting with one fellow human being who presents their jewel of a thought to you. Examine it mindfully. Consider its meaning. Soak in the moment with this one human. Then connect with another. And another.

Enjoy the Mused Spring Equinox 2018 Issue



Raven Sisters Book Review
Suspense / Thriller Books - Karen Hancock, Editor

Franza Oberweiser and her team are trying to solve a brutal murder and everything points to the victim's foster sister, who has been reported missing. Things don't quite add up, however, and while following clues, Franza exposes long-buried secrets that involve jealousy, murder, and blackmail.




Church Flow
Baptist - Celestine A. Gatley, Editor

Do you have a routine for your Sunday Morning? Do you get up early, make breakfast, and prepare for church? Do you plan lunch with the family afterwards? Do you go to church at all? Do you decide to claim the day for rest and watch a sermon on television? What does your church flow look like?




NHY 39 Butterfly Ninetta Caruso
Tatting - Georgia Seitz, Editor

A New Pattern from Nellie H Youngburg #39. This is the corner piece design with a new model by Ninetta Caruso, a butterfly.




Pineapple Rasam Recipe
Indian Food - Sadhana Ginde, Editor

Rasam is a wonderful South Indian broth-like soup that is just bursting with delicious flavors, all perfectly combined in a delicate balance. In just one spoonful, you will taste – spicy, sweet, sour, tangy & peppery flavors, just to name a few. My yummy Pineapple Rasam has a subtle sweetness :-)




I Can't Get Gauge!
Knitting - Korie Beth Brown, Ph.D., Editor

That most revolting of all developments - how can you make the sweater if you can't match the given instructions?




Yoga Rising Review
Yoga - Korie Beth Brown, Editor

Yoga is there for everyone, and yet so many feel unworthy. Melanie Klein's anthology focuses on yoga and body image, but on so much more.


| Google+ |
E D I T O R R E C O M M E N D E D
Easy Spanish Step-By-Step


Easy Spanish Step by Step offers grammar basics, clearly explained in order of importance, and numerous exercises and engaging readings.
Your Adoption Guidebook


Considering adoption and not sure where to start? This handy guidebook is for you! You'll find everything you need to decide if adoption is the right path and then learn how to begin the process.
Spectorsoft EBlaster 6.0 Security and Monitor Soft


Installed in less than five minutes the eblaster software monitors the online activity of children. Providing email alerts to the designated email whenever a child receives or sends an email. Also, allows monitoring of chat rooms, key strokes, and instant messages. See who is talking to your child online.